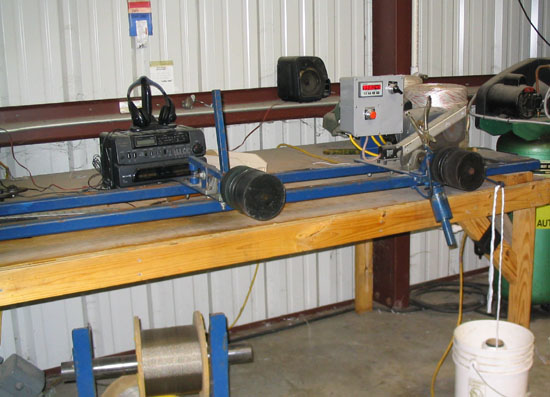 The Myers Design & Manufacturing Round Sling Machine can make most Round Slings in under 2 minutes. The machine is table mounted, offers foot switch operation, and is easily programmed for excellent repeatability.
The Myers Round Sling Machine is available in 3 models, the MDM-RSL 10L light duty, 20S standard and the 20H heavy duty. The 10L model handles 1 to 10 foot #4 slings and is a fast, small unit for high production applications. The 20S model allows for 1 to 20 foot #4 slings, and is the best all around value; fast, proven and efficient. For heavy duty applications, Myers offers the 20H, which is a heavy duty version of the 20S model that accepts 1 to 20 foot #7 slings.

Myers Design & Manufacturing can build a custom Round Sling Machine to meet your specific needs, or provide maintenance and repairs to your current machine. Call Clay Myers at 281-728-7321 for more information.
Myers Round Sling Machine Features:
120 Volt Units
Table Mounted
Easily Programmed
Foot Switch Operation
Repeatability
Larger Custom Units Available
Repairs and Modifications available
Clamping Options
3 different Round Sling Machines to fit your needs
Myers Round Sling Machine Models:
MDM RSM 10L
Capacity: 1' - 10' #4
Fast, small unit for high production
MDM RSM 20S
Capacity: 1' - 20' #5
Best all around value, fast, efficient, proven
MDM RSM 20H
Capacity: 1' - 20' #7
A heavy version of the RSM 20S